PUTTING ARTISTS 
IN THEIR PLACE
Artists
BE INCLUDED. BE COUNTED. BE FOUND.
Artists – be included in the only searchable and shareable index for local Visual, Performing and Literary Artists.
Register today – It's free!
Legacy Profiles
SHARE: INFORMATION. KNOWLEDGE. MEMORIES.
Share your anecdotal information, supportive documentation and images about bygone artists from the Creative Community's past with the Artists Index. You don't need to be an artist to participate.
Register today – It's free!
RESEARCHERS
BROWSE. SEARCH. RESEARCH.
Just a curious individual? Work in the arts industry; in a gallery, as a broker or for a museum? Are you doing scholarly or genealogical research?
Register today – It's free!
The Artists Index
A NEW and ORGANICALLY GROWING DIRECTORY of local contemporary artists, their disciplines, and examples of their art. It's a reference tool; an organic history of the area's art and culture including artists who once lived or worked in the local Creative Community. It's a searchable and shareable resource for Visual, Performing and Literary Artists, art industry professionals, scholars, genealogists and, non-artists as well! Visitors can access the index, browse the indexed artist profiles and preview the latest In-Focus articles and podcasts.
In Focus Podcast Episode 7 William Kendall holds the title of Professor Emeritus from Bridgewater State University, where he taught Painting for over thirty years. William Kendall Welcome, Bill Kendall to In Focus Podcast Number 7. Bill holds a BS degree in art...
read more
Connecting Life and Art with Energetic, Exploratory & Flowing Lines.Catherine Carter was born in Providence and grew up in Massachusetts. As many of us do in our lifetimes, she enjoyed drawing growing up. She particularly liked sewing during her high school years.Her fondness for sewing encouraged her to pursue her diploma in fashion design. With her new diploma…
read more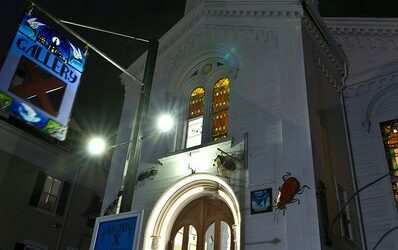 Gallery X – The Sanctuary! This is the first PRO:FILE on both an art association and city institution.  Sometime, at the end of the eighties decade of the Twentieth Century, the artist's cooperative, art gallery, and almost art institution, Gallery X was conceived and brought into this world by Swainees – former students of the Swain School of Design.  The Swain School of Design was itself a local institution…
read more
Awesome Responsibility to Pursue Artistic Freedom: The Victor Da Silva, Jr. Story. This was the very first artist interviewed for the original South Coast Artist Profiles. When I first thought of writing about active local artists, including the new and emerging, the eminent and established, as well as the emeritus (are there any?), I thought there were more than enough to choose from that I could successfully approach and dash off…
read more
BE INCLUDED. BE COUNTED. BE FOUND.
Artists Index
Contact Info
Monday-Friday: 9am - 5pm
508-965-5075